Harness the power of your ESG Data
Our Sustainability assessment tool enables you to leverage data-driven insights to strengthen your organisation and more confidently attract investors, increase the value and reputation of your brand, and help attract and retain new talent.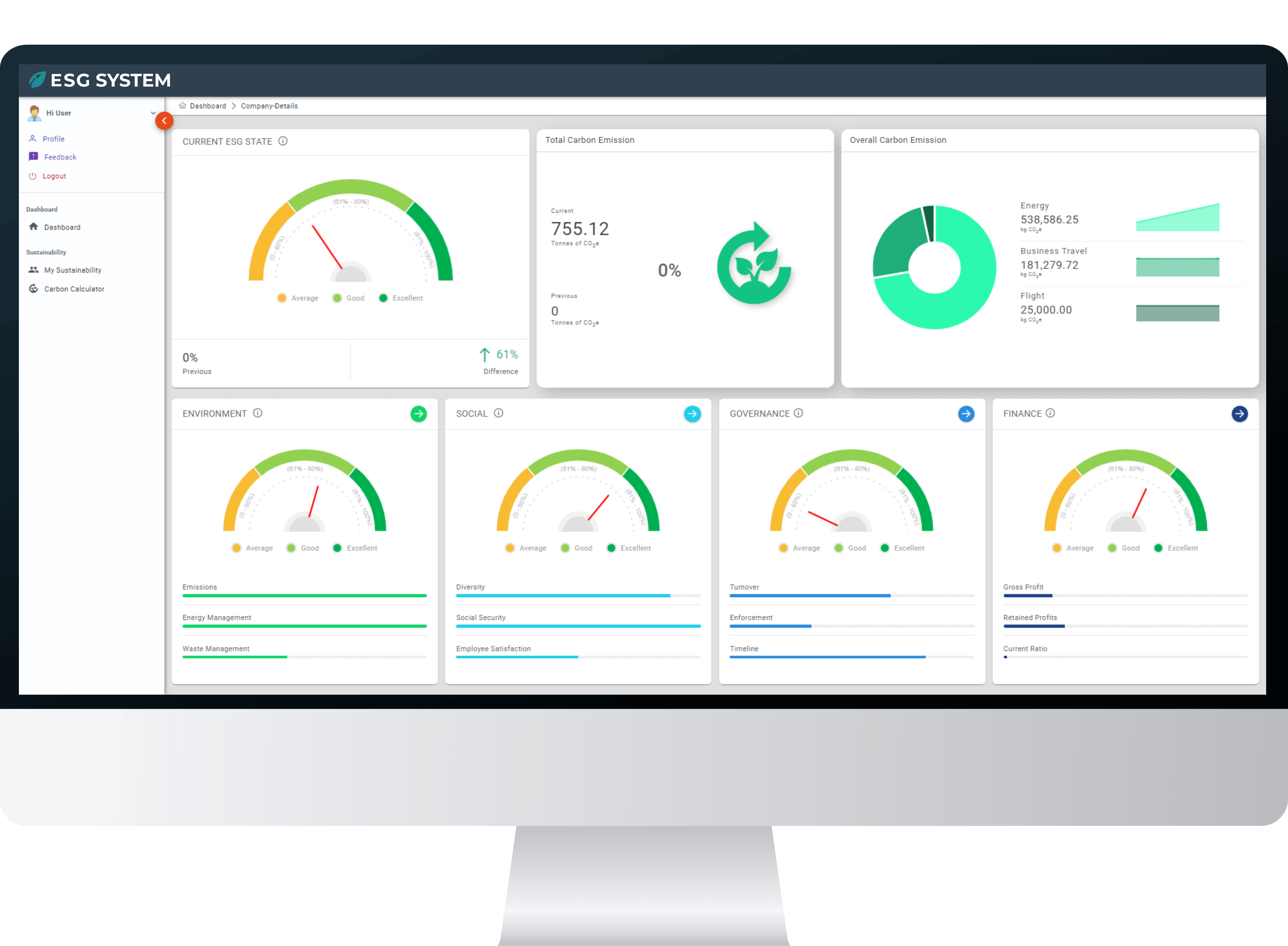 Begin your journey to net-zero emissions with accurate carbon accounting
Our carbon footprint calculator can help your organisation measure and monitor your current carbon emissions. It also enables you to identify which factors are responsible for higher carbon emissions.
Our Carbon calculator provides a dashboard that allows you to see your progress with current GHG emissions and projections with current emissions data. Your organisation can set the target for GHG emissions and monitor the progress, which can eventually help you achieve your net-zero carbon-related emission targets.
How ESG System delivers results
Carbon Management Made Simple
Calculate your company's carbon footprint and gain insights into how to reduce your CO2 emissions.
Accountability and Progress Tracking
Gain visibility into how your ESG progress and identify opportunities
Build Trust with your Community and Investors
Create investment opportunities and promote financial sustainability.
Deeper ESG Transparency
Enhance the public view of your company, while mitigating brand and reputational risks.
Enhanced Reporting
Enhanced communication, reporting and information flow between the Board, management and employees
Add Value to your Organisation
Enforce compliance while maximising the potential benefits of your new and existing ESG initiatives.
ESG Driven Business Improvement
Increased investment, operational savings, stronger workforces, and A more resilient business are all advantages of ESG-led change.
Effective ESG Risk Management
Our solutions can assist you in protecting, complying, understanding, and managing the risks associated with ESG matters successfully.
Why is ESG more important now than ever for your business?
Corporate performance and ESG are inextricably intertwined. Recent studies have consistently shown that ESG plays a vital role in companies' decisions around investment, mergers, and acquisitions. 
ESG related aspects have become critical because they allow stakeholders and investors to direct their resources to investments aligned with sustainable operations as well as their principles and values. Efficient ESG reporting is a tool for holding institutions accountable for their operations and a driving force for good change that aligns with frameworks such as the UN Sustainable Development Goals.
It is becoming more clear that businesses that perform strongly across the ESG factors become more resilient during times of uncertainty.